The Illinois Adjustable Block Program (ABP) (also known as Illinois Shines) is a state-administered solar incentive program developed and managed by the Illinois Power Agency (IPA). It offers incentives for residents through the purchase of Renewable Energy Credits (RECs) for distributed solar generation. RECs are exchanged for 15 years of energy production generated by new photovoltaic (PV) systems.
In 2021, Illinois set a goal of running on 100% renewable energy by 2050. Illinois joins several other states, such as California and New Mexico, to establish aggressive environmental goals requiring a carbon-free power sector.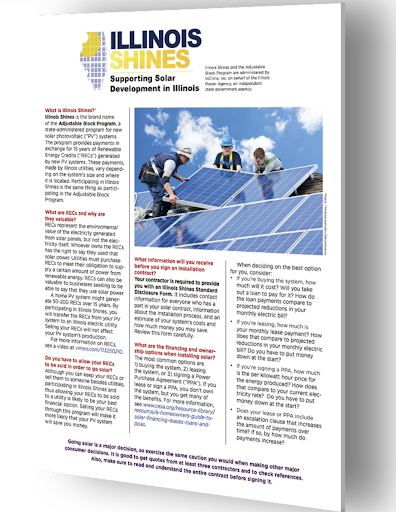 Photo: Illinois Shines Brochure and Disclosure Form
How do Carbon Solutions and the ABP work together?
Carbon Solutions SREC, LLC is an Approved Vendor of the ABP. We partner with local installers to get their solar customers through the application process in accordance with the Illinois Shines Program requirements.

What is an Approved Vendor?
To participate in the APB, a solar owner has to apply through an Approved Vendor (AV). Carbon Solutions Group as an AV is responsible for:
Submitting compliance paperwork.

Maintaining collateral requirements (equivalent to 5% of the total contract value).

Providing ongoing information and reporting.
Approved vendors submit projects to the Adjustable Block Program (ABP) Administrators. The approved vendor agrees to provide a predetermined number of RECs that the utility must purchase over the next 15 years at a predetermined price per REC which is set by the ABP.
How ABP Process Works
The process will begin at your first in-person interaction with a solar installer. They will provide the Program Brochure to ensure a customer understands this incentive. The ABP process will coincide with your installation process with some of the paperwork and applications happening during the contracting and pre-installation planning with the installer.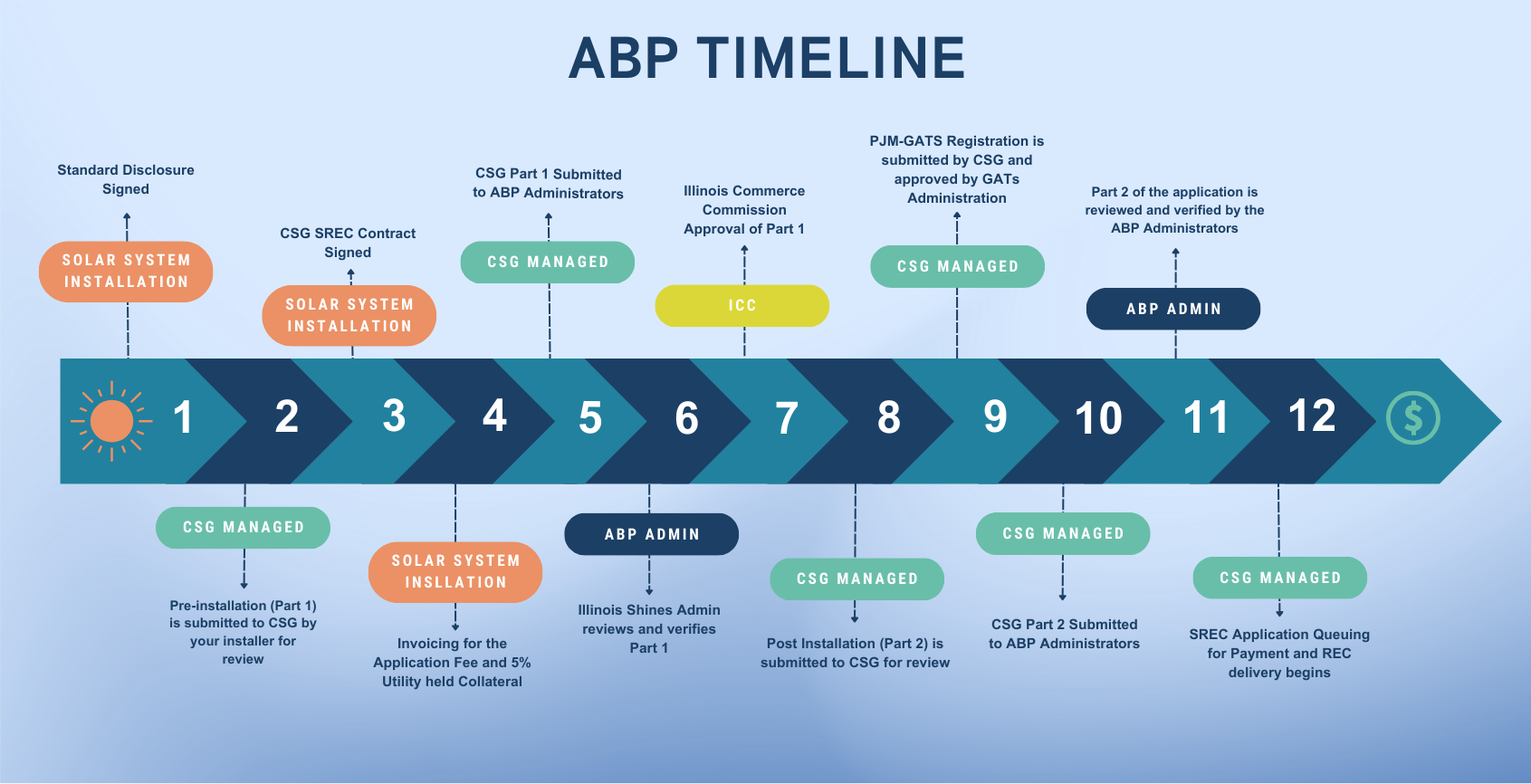 These are the Steps:
Step 1. Standard Disclosure Form signed ( this will happen either prior to or at the same time that you are signing the installation contract.
Step 2. SREC Contract signed.
Step 3. Invoicing for the Application Fee and 5% Utility Held Collateral.
Step 4. Pre-installation (Part 1) is submitted to CSG by your installer for review.
Step 5. Part 1of the application is submitted by CSG to the ABP Administrators.
Step 6. Part 1 of the application is reviewed and verified by the ABP Administrators.
Step 7. ABP Administrators batch submit verified facilities for ICC Approval.
Step 8. Post Installation (Part 2)is submitted to CSG by your installer following utility approval.
Step 9. Part 2 of the application is submitted by CSG to the ABP Administrators.
Step 10. PJM-GATS Registration is submitted by CSG and approved by GATS Administration.
Step 11. Part 2 of the application is reviewed and verified by the ABP Administrators.
Step 12. SREC Application Queuing for Payment and REC delivery begins.
What are the expected timelines?
We generally expect the multi-step application process to take 12-18 months from the time you apply to the time you receive your SREC payment. This process can take longer depending on how long it is between contract signing and system installation.
The ABP with Carbon Solutions offers payment for 15 years of SRECs – but please note that REC Generation and Collateral Requirements will apply.