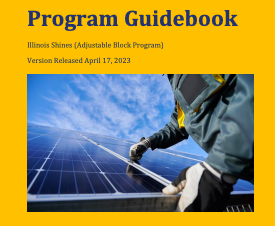 Updated April 2023
ABP Illinois Shines SREC incentive framework is a state-funded program that offers an excellent way for homeowners to benefit by installing renewable energy systems through the SREC market. These are the solar system requirements according to the ABP Program Guidebook 2023 -2024 that must be met to participate.
A. System Location
All systems must be entirely physically located in Illinois and interconnected to the distribution level electrical grid of an Illinois investor-owned electric utility, rural electric cooperative, or municipal electric system.
All Distributed Generation (DG) systems must be located on the customer side of the electric meter and used primarily to offset that customer's electricity load.
Systems must be built at the location specified in the Part I application.
Systems must remain at the approved location for the duration of the 15-year or 20-year contract as applicable and may not be relocated.
Generally, projects should have a single point of interconnection.
B. Interconnection Date
All systems must have a final interconnection approval (or equivalent from a rural electric cooperative or municipal electric utility) dated on or after June 1, 2017.
Interconnection agreements with the utility must be executed by both the interconnection applicant/requester and the interconnecting utility and be valid, and not expired.
C. New Equipment
The equipment is new. equipment has not been used prior to installation, or the age and warranty of the equipment is disclosed to a customer or host whose solar system will use equipment previously used in a solar facility.
D. Installer Requirements
A system must be installed by an entity certified as a Distributed Generation Installer in good standing with the Illinois Commerce Commission. (See Illinois Distributed Generation Installer)
Note: Self-installing a system on one's own property is allowed in the Illinois Shines program with the following requirements.
1. Self-installers are exempt from being an ICC Certified DG Installer, but not the requirement to be a qualified person.
2. The self-installer needs to submit one of the following, proving that they are a Qualified Person: a notarized attestation that they have completed at least five solar project installations before the application(s) submitted to the Program; or a certificate of completion for one of the training programs noted in the definition of "Qualified Person."
(See Section 4D: ABP Program 2023-2024 Program Guidebook)
E. Expansions
An expansion to a system that is already under a REC contract in the Program must be independently metered (with a separate GATS or M-RETS ID) and must be separately enrolled in net metering with the utility.
The expansion must comply with all Program requirements in effect at the time the expansion application is submitted.
If an expansion would move the total system size from the Small DG category into the Large DG category, and that category is operating on a waitlist, the expansion would be added to the waitlist in the same manner as a new system in that category while the existing system continues to receive REC payments under the previously contracted terms.
Expansion applications submitted prior to the corresponding Group/category reaching full capacity will not be added to the waitlist and instead will be eligible for Part I review.
(See Section 4E: ABP Program 2023-2024 Program Guidebook)
F. Co-location of Distributed Generation Projects
The total capacity of distributed generation systems enrolled in the Illinois Shines program at a customer's location will be considered a single system. (For example, three 100 kW systems at a single location will be considered a 300 kW system.)
For purposes of determining the system's REC price, a system's location is considered to be a single building (regardless of the number of utility accounts at the location) for rooftop installations, and a single property parcel for ground-mounted systems (if a property has both rooftop and ground-mounted systems, it will be considered a single system).
Systems located on multiple different rooftops or ground locations on the same parcel will be considered a single system if the same entity or its affiliates own each system.
(See Section 4F: ABP Program 2023-2024 Program Guidebook)
G. Co-location of Community Solar Projects
No Approved Vendor may apply to the Program for more than 4 MW of Community Solar projects on the same or contiguous parcels under the 2019 REC Delivery Contract. This is increased to 5 MW under the 2021 REC Delivery Contracts and later REC Delivery Contracts.
Under the 2021 and 2022 REC Delivery Contract, projects may be co-located in any manner as long as the total collocated capacity does not exceed 5 MW.
(See Section 4G ABP Program 2023-2024 Program Guidebook)
H. Site Control
For project application, the Approved Vendor must provide a written binding contract, option, or other demonstration of site control acceptable to the Program Administrator for all projects where the Approved Vendor is not also the project owner and the host.
In cases where the system owner and host are the same entity, site control can be demonstrated by a statement from the system owner and host that this is the case.
I. Site Map
The site map must be provided with each application for all systems, showing property boundaries (if ground-mount), any structures on the property or rooftop, and the location of the solar array(s).
To avoid a request for additional information, the Program Administrator encourages including clearly labeled surrounding streets names on site maps.
J. REC Quantity Calculation
While the application portal will automatically calculate the PVWatts estimated production for an application and the associated contractual REC delivery amount rounded down to the whole REC, it can also be calculated with an alternative capacity factor which may be larger than the PVWatts capacity factor, if such a selection was obtained using a custom software tool designed to calculate such capacity factors or calculated by a professional engineer
(See Section 4J: ABP Program 2023-2024 Program Guidebook)
K. System Size
All system sizes recognized are in AC system size based on the inverter size (i.e., a system with a single 10 kW inverter is considered a 10 kW system even if it has 12 kW of STC DC capacity).
Inverter capacity shall be measured as the nameplate maximum continuous output.
An inverter shall be connected to a solar panel to be considered as part of the AC system size.
In the case of microinverters that contain more than one inverter per unit, only the inverters connected to a panel shall be included in the AC system size.
Systems will be limited to a DC capacity of 155% of the AC capacity (for example, a 10 kW AC system can contain only 15.5 kW in STC DC capacity).
An Approved Vendor may request an exemption for this requirement, but exemptions will only be granted for good cause and at the discretion of the Agency and its Program Administrator.
L. Systems with Battery Backup
All systems that include a battery shall be identified to the Program Administrator.
All systems including a battery shall be electrically connected to ensure that any nonsolar-generated electricity used to charge the battery is not later metered as solar generated power.
Further Reading:
Are there special requirements for battery backups?
M. Systems that Directly Serve DC Loads
The Agency does not wish to inadvertently prohibit participation in the Program by photovoltaic systems that do not convert the DC electricity produced to AC electricity. However, for the reasons addressed in net metering below, the Agency is still in the process of developing standards for allowing Illinois Shines program participation from DC-only systems.
The Plan allows systems to use an alternative capacity factor based on an analysis using PV Watts or an equivalent tool.
This process is still under review. (See more at Section 4M: ABP Program 2023-2024 Program Guidebook)

N. Metering
The following metering requirements are identical for systems registered with either GATS or M-RETS:
Systems 25 kW and above in size must utilize a new production meter that meets ANSI C.12 standards. The inverter must be UL‐certified and include a digital or web‐based output display.
Systems over 10 kW and less than 25 kW in size must utilize a production meter that meets ANSI C.12 standards. Production meters that are refurbished (and certified by the meter supplier) are allowed.
Inverters with integrated ANSI C.12 compliant production meters are allowed with a specification sheet showing this standard has been met. The inverter must be UL‐certified and must include either a digital or web‐based output display.
Systems of 10 kW in size and below must utilize either a production meter that is accurate to +/‐ 5% (including refurbished and certified meters), or an inverter that is specified by the manufacturer to be accurate to +/‐5%. The inverter must be UL‐certified and must include either a digital or web‐based output display.
No system is required to have automated or remote meter reporting capability, although such production meters are allowed if they meet the requirements in bullet points 1-3 above.
O. Partial Systems
All systems submitted to the Illinois Shines program must include the entire output of the system (recognizing, of course, the REC delivery obligations for community solar projects correspond to only the subscribed shares of those projects).
Any capacity of a system that is not part of the Program must be separately metered with a separate inverter.
P. Rate Recovery
All systems submitted to the ABP are prohibited from recovering the costs of said project through state-regulated rates.
(See more at Section 4P: ABP Program 2023-2024 Program Guidebook)
Q. Prevailing Wage Requirements
As outlined in the IPA Act, most Program project proposals must comply with Illinois Prevailing Wage Act requirements. The prevailing wage is a minimum compensation level by county set by the Illinois Department of Labor for construction activities related to public works.
For Program administration, Illinois law allows only the following types of projects to be considered exempt from prevailing wage requirements:
Large Distributed Generation projects (greater than 25 kW AC) that were on a waitlist as of the Program's reopening on December 14, 2021.
Distributed generation projects (Large or Small) that either: serve a single-family or multi-family residential building or o serve a house of worship and are not greater than 100 kW AC (aggregated with any colocated projects).
Distributed generation projects (Large or Small) for which construction can be demonstrated to have been completed before September 15, 2021.
(See more at Section 4Q: ABP Program 2023-2024 Program Guidebook)